Statement of protest against Prime Minister Fumio Kishida's demand to remove the "Girl's Statue of Peace" in Berlin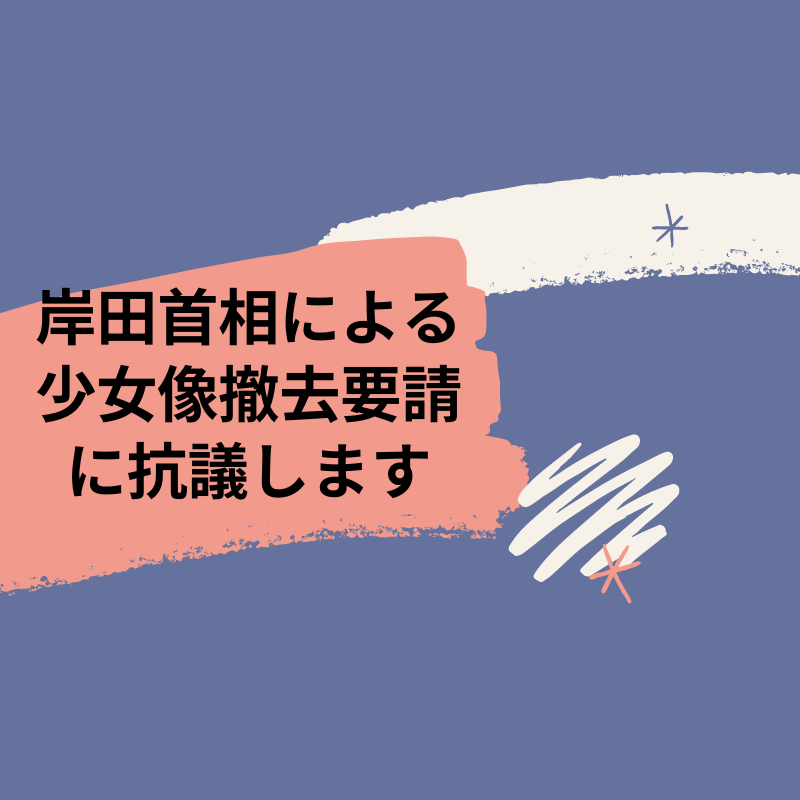 Statement of protest against Prime Minister Fumio Kishida's demand to remove the "Girl's Statue of Peace" in Berlin
 Chief Cabinet Secretary Hirokazu Matsuno announced at a press conference that Prime Minister Fumio Kishida had demanded that Chancellor Scholz remove the "Girl's Statue of Peace" in the Mitte district of Berlin, Germany, at a Japan-Germany summit meeting held on April 28th at the Prime Ministerr's office.

 In the first place, the establishment of memorials is one of the measures to restore the damage caused by human rights violations. It is also the right of citizens to confront the past and learn about it. Demanding the removal of the"Girl's Statue of Peace", which was proposed by a private organization, installed through a formal administrative procedure, and supported by the district assembly, is unjust political intervention, a violation of freedom of expression, and a repudiation of international human rights treaties. We demand that the demand for the removal of the statue be withdrawn immediately.

 The Japanese government has been demanding the "removal and relocation" of the "Girl's Statue of Peace" in front of the Japanese Embassy in Seoul under the pretext of the Vienna Convention since its installation in 2011, but the statue in Berlin is not even near a Japanese diplomatic mission abroad. Prime Minister Kishida's request is nothing but an expression of self-serving politics that seeks to cover up any expression that is inconvenient for the Japanese government through top diplomacy, even if it means ignoring all administrative procedures, democratic consensus among citizens, and local autonomy in that country.

 The demand for the removal of the memorial, which was set up by a private German organization, is not a reflection of the mistakes made by the Japanese military "comfort women" system, but rather an attempt to deny once again Japan's responsibility for perpetrating these crimes. We protest against the Japanese government and demand that it cease its unjustified intervention in the establishment of the memorial.

May 20, 2022
Fight for Justice (Japanese Military "Comfort Women" Issue Website Production Committee)